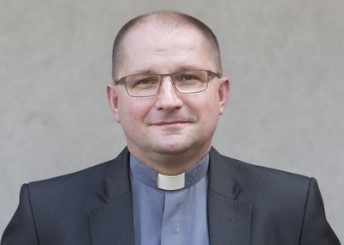 Father Roman Chromy, Spiritual Advisor for LAI's Europe Coordination
Director of the pastoral department of the metropolitan curia in Katowice (Poland)
Born in 1971 in Poland. In 1990, he joined the Seminary of Upper Silesia in Katowice. From 1992 to 1994 he was a fellow of the Catholic Institute (theology) in Paris. He was ordained a priest on May 10, 1997 in the Cathedral of Christ the King in Katowice by Archbishop Damian Zimo. In the same year, he obtained a master's degree in fundamental theology.
After his ordination, he worked in a number of Polish parishes. From 1998 to 2010, during the summer period, he worked in parishes in the diocese of Nice (France). In 2009, he was a journalist and director of the diocesan section of the Catholic weekly "Go-Niedzielny" in Katowice..
In 2012, he became director of the pastoral department of the metropolitan curia in Katowice. As part of the synod work, he was a member of the presynodal team, chairman of the pastoral commission and a member of the main commission of the second synod.
As a representative of the Church, he coordinates the organization of the Metropolitan Family Feast. He co-created evangelical events in the Archdiocese of Katowice. He is the initiator and organizer of the train pilgrimage of the sick and their families to Lourdes (2015, 2017, 2019). He is also assistant to the Council of Catholic Movements of the Archdiocese of Katowice, pastor of the local authorities and, at the national level, secretary of the pastoral commission of the Polish Bishops' Conference and editor-in-chief of the Church's pastoral programme in Poland.
To download this text in PDF, click on the icon